This past week, it's been British Flowers Week, a celebration of the astonishing diversity and beauty of home-grown varieties blooming in abundance, this sunny June. It's always British Flowers Week here at Water Lane as that is all we grow and sell, but what might be simply another awareness week in the diary, has an underlying serious message. It's an opportunity for growers, florists and the wider flower industry to show why we should be proud of what we produce here in the UK. Let's not forget that until the 1970's the only flowers you could buy came from British flower farms. Sadly today, most flowers sold in this country will have been grown by large-scale commercial growers and routed through the Dutch flower auctions. And all too often grown with the aid of harmful chemicals. Just as our attitude towards food provenance and artisanal produced ingredients has changed for the better in recent years, the campaign advocates for flowers to be grown, cut and sold in line with the seasons. From the first narcissi, snowdrops, and hyacinths in February to jewel coloured anemones and ranunculus, that welcome the arrival of spring, there is always a homegrown alternative to a flower cut before its prime and flown halfway across the world. As spring turns into summer, cornflowers, scabious, peonies and roses are fully in bloom, before the dahlias, chrysanthemums, sunflowers and zinnias mark the beginning of autumn.
We are proud to be part of a growing movement that seeks to redress the imbalance of imported flowers, by growing flowers and foliage for the local market, for both florists and individuals. Beautiful, fresh cut flowers are a luxury and one to treat yourself to. We have bunches cut and arranged by Pia, our inhouse florist, available daily and florists can contact Ian on ian.james@waterlane.net for our Water Lane wholesale list. In bloom this week are foxgloves, calendula, roses, alchemilla mollis, Icelandic poppies, nigella, geums, salvia, sweetpeas and many more. Ian can cut to a specific palette or can offer mixed buckets.
Under the terrace awning is the best place to be in Summer, catching the scent of sweet peas and possibly considering another glass of rosé. Next to the Portuguese wood oven we have our new outdoor grill set up for a summer menu of cod cheek and bacon skewers with peas and aioli; beetroot and red onion galette with goats' cheese; lamb kebabs, broad beans, cucumber, yoghurt and picked radish; and whole plaice, artichokes and tapenade. On our new drinks menu is a wonderful selection of wines, shrubs and non-alcoholic options. A new favourite is Botivo over ice with soda and an orange wedge – a deliciously complex non-alcoholic botanical aperitif made with cider apple vinegar, honey and herbs. One to try! Dining on the terrace is always popular so do make sure you reserve a table.
A must for any garden lover is The Gardener's Palette (Timber Press, £29.75) a new guide by RHS medal winning designer Jo Thompson, for successfully creating colour harmony in the home garden. Jo has created 100 colour palettes derived from existing gardens and shows readers how to find and recreate a planting scheme in their own garden.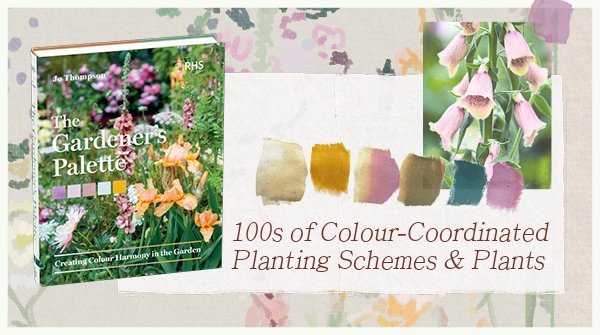 We will have copies of Jo's new book in the shop when it's published in early July and already know it's a soon-to-be classic. In the meantime, the shop is full of new stock for the home and garden, including gift vouchers. Maybe time to pop in for a gift for Dad this Father's Day on Sunday?
Finally, a save the date for your diary. On 17 September, we will host our Autumn Fair, bringing together creatives and makers who will set up stall under the awning, selling their original, handmade, and vintage items for the house and garden. More information to come soon.