August is a busy month in the garden. It's a time of full production and daily jobs, but it's also a time of reflection to enjoy the fruits of your labour, and to start making plans for next year. One of the nicest jobs at Water Lane is an early morning potter around the flowerbeds, dead heading the scabiosa and roses and cutting a big bucket of dahlias for table decorations and arrange into bouquets for the shop. Pia, our Water Lane shop manager is also a florist, so these bunches are always beautifully created. Here are some of Pia's favourite gardening items in the shop this week to keep on top of the to-do list in August.
Niwaki Higurashi Scissors
A traditional drop forged pair of scissors for the garden and home. They are perfect for arranging cut flowers, dead heading, a bit of bonsai and light pruning. Made with hard wearing carbon steel that holds its edge and sharpens up well.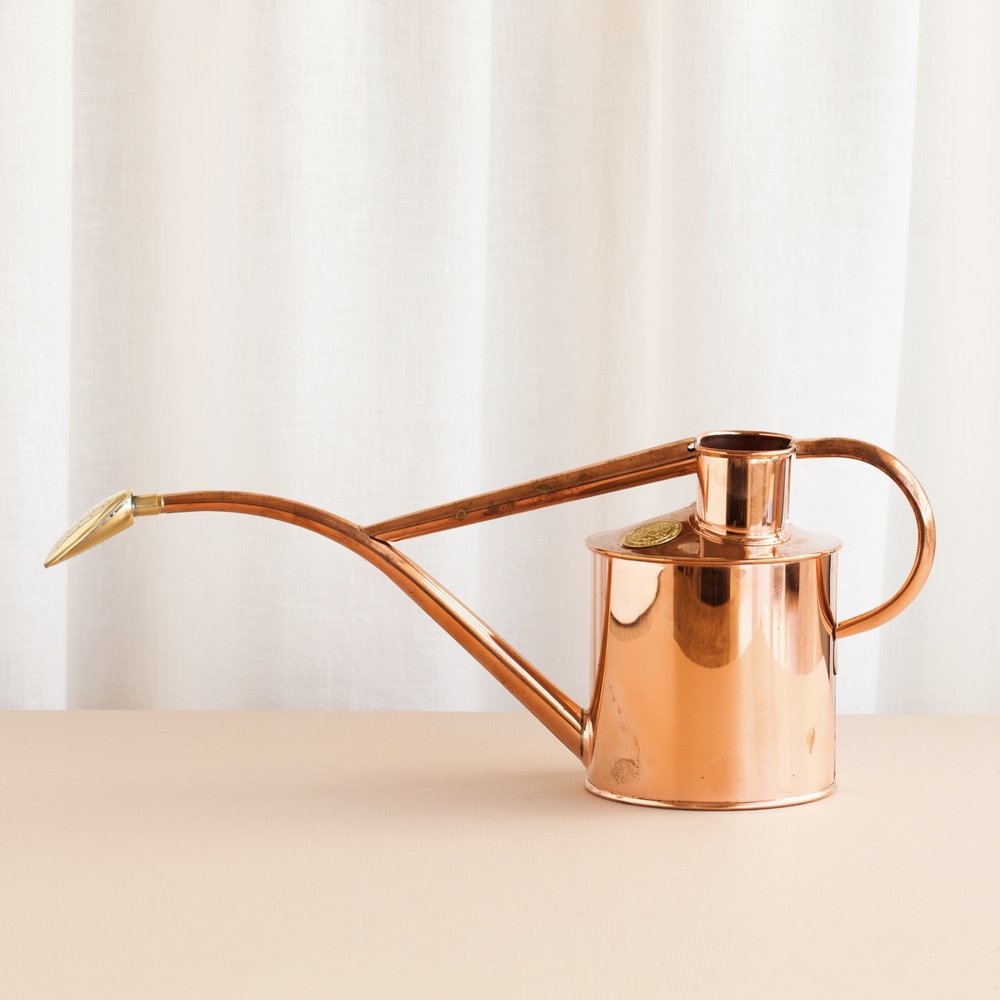 Haws Rowley Ripple 2-pint Copper Indoor Watering Can
This elegant and beautiful copper watering can is the perfect tool to help you keep all your indoor plants happy and hydrated (and look rather glamorous whilst doing it). It has a specially designed curved spout, making it perfectly balanced and allowing you to water with pinpoint accuracy. It also comes with a removable oval non-drip brass rose, making it ideal for watering delicate seedlings, small plants, and pots.
Natural Snail Repellant
A gentle and natural repellent spray made with hand distilled Pinus Sylvestris, which works to discourage slugs and snails from munching your plants. It is vegan, cruelty free, bee and pet safe, and you can use it on all plants including your edibles.
Letterpress Flower and Vegetable Seed Boxes
These storage boxes made by Mabel and Co, a letterpress studio in Suffolk who hand print their stationery on a Victorian Treadle printing press, using natural linseed oil ink. They are inspired by the kitchen garden and the below stairs storage containers used in large country houses; these were always simple, functional, and often very beautiful. The box comes with four tabbed dividers to organise your seed packets.
Twool Wool Garden Twine - 100m
A perfect gift for gardeners. Twool is a strong, durable twine made in Yorkshire from Dartmoor wool. It's extremely strong and long-lasting, yet soft on gardeners' hands and plants alike. The wool used is from the Whiteface Dartmoor sheep, and production helps protect this ancient rare breed. It is collected at source from farmers who practice regenerative agriculture and land management in Devon.
For Peat's Sake! Eco Coir Compost - 11.5L
Made from the husks of coconuts, this 600g eco coir compost block, creates up to 11.5 litres of the optimum soil for growing houseplants, herbs, fruit, vegetables, and cacti. Coir is one of the most environmentally friendly soils you can use and is a great alternative to harvesting peat. The earth's peat bogs store over 600 billion tonnes of CO2 (more than all the world's forests combined), so it is incredibly important that we move away from this resource, for our planet's sake.